2022
FEBRUARY 26th and 27th, 2022
Deadline to Register is February 9th, 2022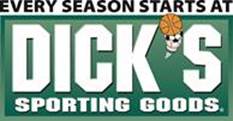 20% OFF Throughout the Store!
Friday, February 25th- Monday, February 28th, 2022
5945 N. Elizabeth Street, Pueblo, CO 81008
Our partner DICK'S Sporting Goods is offering all our members
an exclusive discount of 20% off throughout the store!
Be sure to grab all the things you will need for the season
as well as all the other items that you have had your eyes on.
To access exclusive savings, click the coupon link above.
The coupon is valid in-store on the dates above
and must be shown at the register during checkout.
As a reminder, there are some brands in store that are not eligible for discount.
You can find these exclusions on our website at, Dicks.com/Exclusions.
Welcome to the 2022 Sunbelt Classic Soccer Tournament! We are so excited to get back out on the soccer fields and can't wait to see you! We know you have many choices when it comes to tournaments and we appreciate your interest in ours. We are excited to announce that this will be our 25th year hosting this event! We believe in continuing that small hometown feel and would love for your team to come back year after year!
We want your team to feel welcome and we will work hard to make sure you have a great experience! We want to thank all of the hard working coaches and so, each team will receive a coach's gift in the welcome packet,
along with other small gifts, coupons and tournament programs! Teams will play at Langoni Soccer Complex and Minnequa Lake Soccer Complex.
The tournament committee continues to run each site as a self-contained unit, each offering concessions, tents/trailers and merchandise sales. Site Directors at each location will coordinate activities at their venue. Although, each team, for the most part, will play all of their matches at the same site,
you are certainly encouraged to visit other sites, to cheer on your favorite clubs.
Each team will have a 3 game guarantee.
Click here for referee information
TOURNAMENT FIELDS AND VENDORS:
Click on Field Name for Map
1600 W. 24th Street, Pueblo Co 81003
1822 W. Pueblo Blvd., Pueblo, CO 81004
Pueblo Visitors Guide Livability Pueblo Magazine
| | |
| --- | --- |
| AGE DIVISION | REGISTRATION FEE |
| U9-U10 | $300.00 |
| U11-U12 | $500.00 |
| U13-U14 | $575.00 |
| U15-U16 | $600.00 |
| U17-U19 | $650.00 |
Sunbelt Classic 2022 Sportsman Awards:
We believe in the importance of good sportsmanship and in acknowledging and rewarding those kids that exemplify this.
Each team will receive 2 sportsman medals upon check-in.
The expectation is that each team hand these medals out, sometime during the tournament,
to a player that either showed great sportsmanship or to a player that did something amazing or unforgettable.
The only rule, really, is that you cannot give these to anyone on your own team.
Thank you and good luck to all of the teams!!!
WE WANT TO THANK THE FOLLOWING BUSINESSES FOR THEIR
CONTRIBUTIONS TO OUR EVENT IN 2022!
PLEASE SUPPORT OUR SPONSORS!!!
Chick Fil A (719) 424-3838
- 1535 US-50, Pueblo, CO 81008
Olive Garden (719) 253-0033
- 3240 N. Elizabeth Street, Pueblo, CO 81008
Aspen Steel & Fabrication, Inc. (719) 744-7777
- 2997 I-25 North, Pueblo, CO 81008
Dick's Sporting Goods (719) 696-3096
- 5945 N. Elizabeth Street, Pueblo, CO 81008
Pueblo Parks & Rec
Pueblo Chamber of Commerce
Loaf N Jug
Walking Stick Golf Course (719) 553-1181
Blue Flame Gas, Inc. (719) 543-7736
Thunderzone Pizza and Taphouse (719) 547-4388
- 2270 Rawlings Blvd., Pueblo, CO 81001
Starbucks - 1565 Hwy 50 West, Pueblo, CO 81008 (719) 296-0300
TOURNAMENT CONTACTS:
| | | | |
| --- | --- | --- | --- |
| POSITION: | CONTACT NAME: | PHONE #: | EMAIL: |
| Tournament Director | Katie Champlain | (719) 252-0590 | kchamplain82@yahoo.com |
| Assistant Tournament Director | Debbie Nettles | (719) 242-4050 | soccer@pueblorangers.net |
| Director of Coaching | J.D. Carter | (719) 671-5672 | coach.jd@hotmail.com |
| Referee Assignor | Lela Marcin | (303) 956-5358 | lela@csarefereeassignors.com/lelaref@outlook.com |
| Site Director (Langoni) | Katie Champlain | (719) 252-0590 | kchamplain@yahoo.com |
| Site Director (Centennial) | Debbie Nettles | (719) 242-4050 | soccer@pueblorangers.net |
| Site Director (Centennial) | Tawna Upton | (719) 242-5888 | tawnaupton@gmail.com |